First of all, I want you to know that I am not a Google Forms expert (YET)! I've been using them for a couple of years now with my students and it has not failed me so far. I do, however, know enough to effectively use them for escape rooms, quizzes, practice, and warm ups which is what we'll be discussing today!
While this is a math teacher's guide to Google Forms, it is mostly applicable to all subjects as a fundamental tutorial to get creative with whatever ways will suit your classroom best. Let's begin!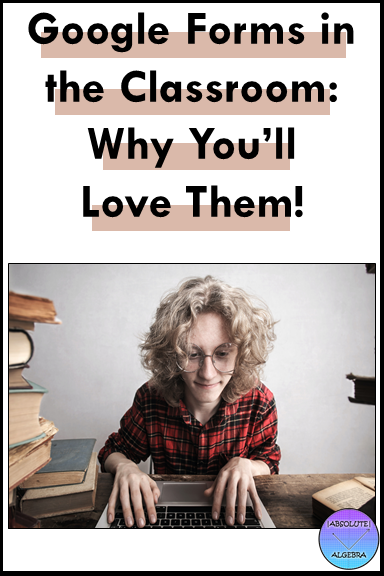 Escape Rooms with Google Forms
Let's talk about escape rooms. In an online escape room, students will complete one section and must get it correct before they can move on. You can set this up by adding sections to your Google form. Use the answers to create a code that the student needs to enter in to the Google form. If they get the correct answer they will move on, otherwise they will be stuck on the same level until they crack the code.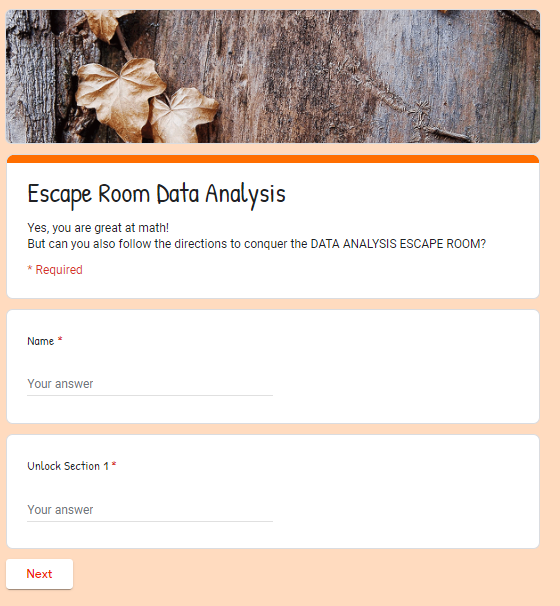 If they get the code incorrect, you can give them a hint to guide them in the right direction.
A good idea for math classrooms is to put the questions (as pictures) directly onto the Google form or have the student use a worksheet provided elsewhere.
Here is a middle school math escape room bundle using Google Forms (All escape rooms in this bundle are also sold individually.)
Here is an Algebra escape room bundle using Google Forms (All escape rooms in this bundle are also sold individually.)
Quizzes/Practice/Warm Ups with Google Forms
Another way that Google forms are great in the classroom is for quizzes, practice, and warm ups!
Multiple-Choice Problems
Make the problems multiple choice using a picture with the answers directly on the picture marked A,B,C and D. This will eliminate any problem of a student not typing the answer correctly into the answer box. Students will be able to see (after clicking submit) if they got the problem right or wrong.
When I create questions in this manner, I first create them in Powerpoint and make each slide a question with the multiple-choice answers on it. Then I save it as an image (.jpg or .png) and import it into the Google form. My multiple-choice selections are just A, B,C and D- nothing else in the multiple-choice section of the question. I do this because certain math symbols are difficult to type into the Google form on a traditional keyboard. There are add-ons for the Google form that create equations which is another option you have.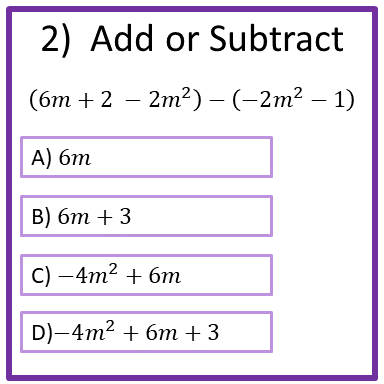 Here are some Algebra, Self-Grading Google Forms already created for you! (Products in these bundles are also sold individually.)
Here are some Middle School, Self-Grading Google Forms already created for you! (Products in these bundles are also sold individually.)
Short Answer or Paragraph Form
Make the problems require a short answer response for more detailed answers.
Have the Google Form only allow the student to answer the quiz or practice once. You can also allow them to keep trying until they get each problem correct.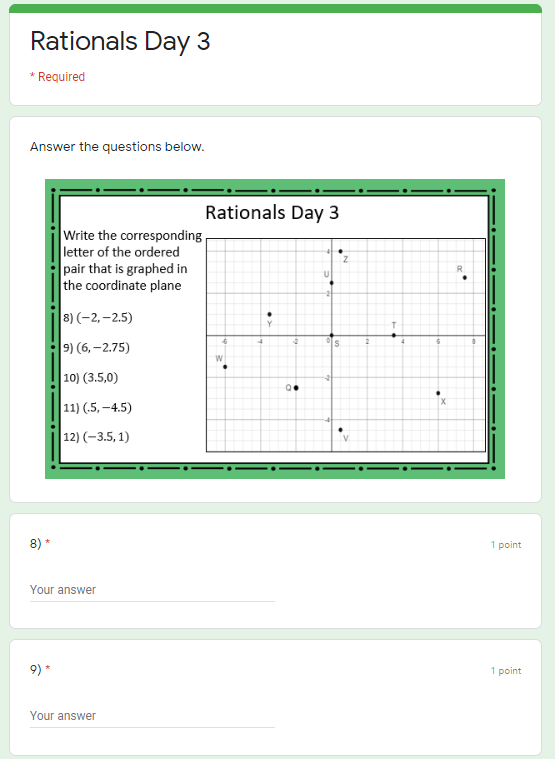 In class, have students show their work on a separate sheet of paper. They can turn it in directly to you, through Google classroom, or by taking a picture and emailing it. Since some kids might copy through math apps on their phones that give them answers, having students show their work helps prove that students understand the material.
You can also use a Google Form to collect short answers from your students without having the Google Form actually grade it.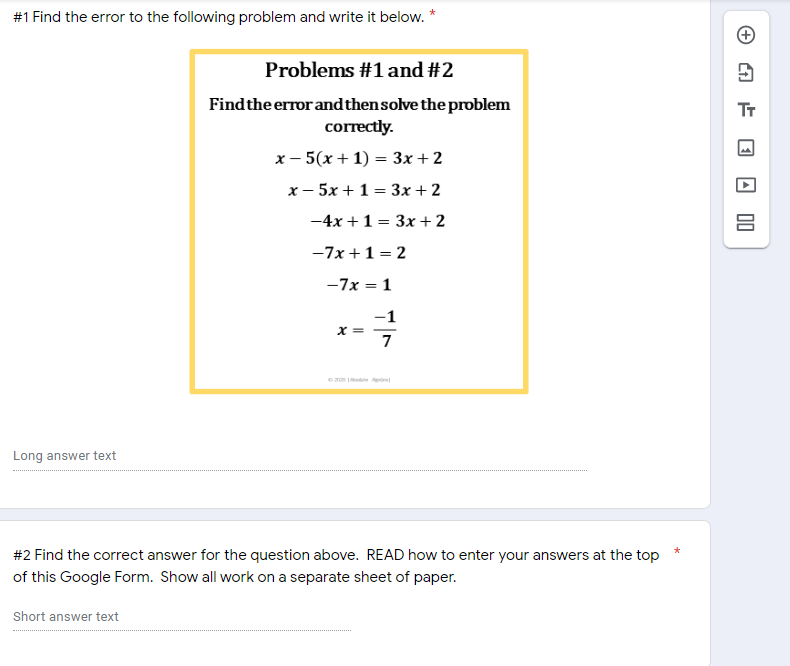 Click on 'response' in the Google Form to see student's responses. The data will come up automatically, but you will have to grade these by hand.
Here are some 5th-7th Grade Warm Ups (Starters/Bell Ringers) already created for you!
Add Videos or Pictures to your Google Forms
Making instructional videos through Screencastify or some other desktop recording site can be helpful for your students. You can use it for distance learning, intervention, or if you're flipping the classroom. To insert these into a Google Form, first set up a private YouTube account. (If you want your videos to be available to the general public, using a public account is fine as well!) Then, upload the video to YouTube and go back to Google Forms and import it from there.
(Double check to see if your school allows students to click on a video through YouTube- some schools restrict the videos that students can see on YouTube!)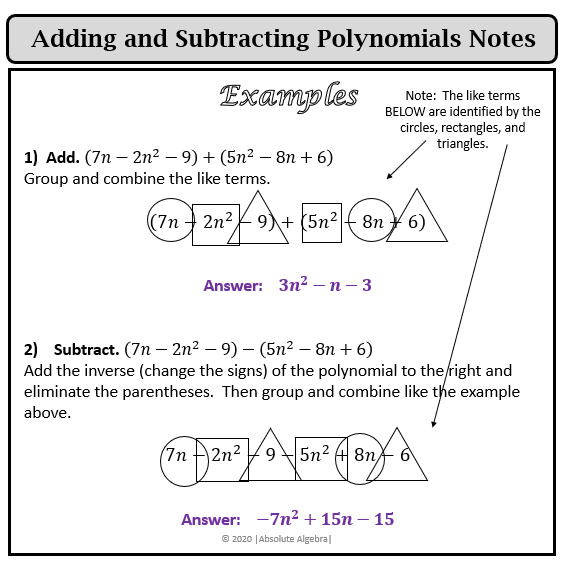 Click here to get your FREE Integer Escape Room using Google Forms!
Click here to get your FREE Polynomial Escape Room using Google Forms!
Try it out!
Try to make one and see how easy it can be. And if you have any questions, there are tons of great resources you can find off Google or on YouTube!
There are many other features of Google forms that I have not even touched upon. Maybe I'll learn more and write another post! Let me know what you've learned about Google Forms and how they've helped YOU in the classroom!
I would love to hear your great ideas. Put them in the comments below.