Task cards are a great way to allow your students to get extra practice on a topic while providing more variety than worksheets. They are a tool that will keep your students engaged in lots of different ways. Task cards are a powerful way to support growth in learning. Here are ten ways to use task cards that can change the dynamic of your classroom.
Task Card Ideas
Stations
Rotations are a simple yet engaging method you can apply to task cards that keep students on their feet and collaborating with each other. By stationing task cards in certain areas around the room, students can work in groups to solve the task cards and then move onto the next station after they've completed the work.
This method is especially effective if you require each student to show accountability for their work. Check out Conquering Math Stations through Accountability to learn more about this.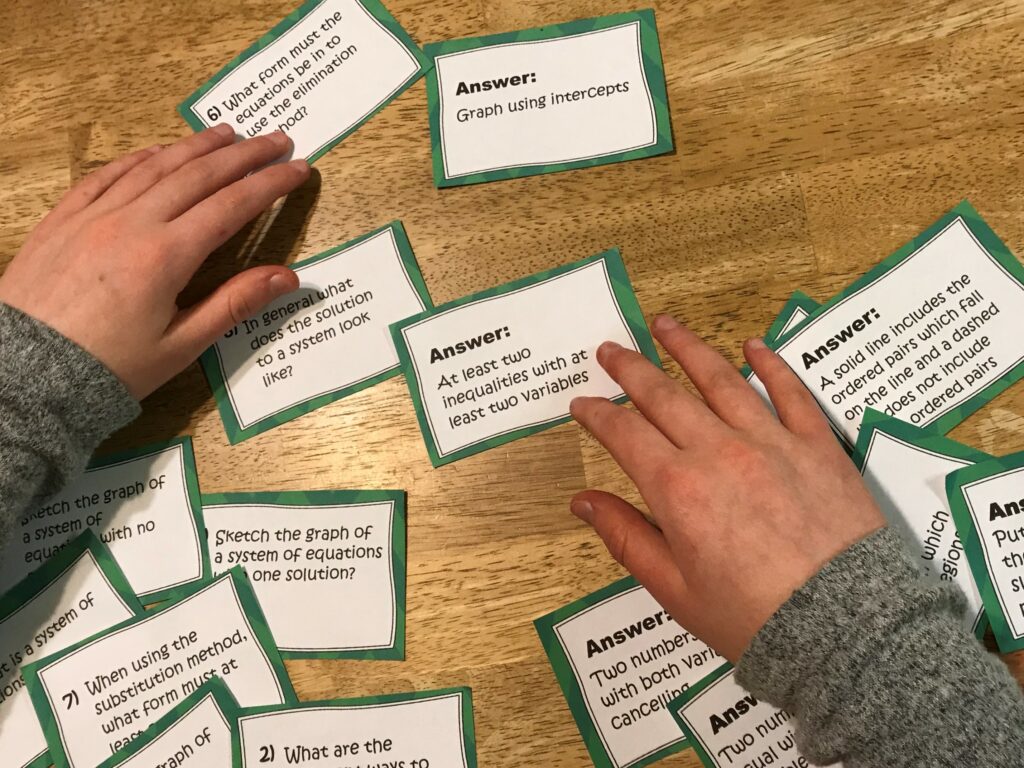 Spiraling
Spiraling is another simple method you could use in the classroom to help students with retention of the material.
After teaching a lesson, you could introduce some task cards to your class to solve so they can immediately apply their knowledge of the lesson. However, this single application is likely not enough for students to remember the material in the long run.
In order to reinforce topics, use the spiraling method and bring previous material into future lessons to remind your students of the topics you've gone over already so they get a nice balance of new and old material to remember. Continue this throughout the year to increase overall retention and understanding.
Exit Tickets
Exit tickets are a great way to reinforce information at the end of class as well as provide an opportunity to learn from their incorrect answers.
Show the students a task card that you discussed during class that day. Have students solve it and show their work. Collect their work as exit tickets on their way out the door.
The next day, choose some correct answers and some incorrect answers for a review that the students completed the day before. This will be an opportunity to let the students revisit the same material from the previous day as well as learn what mistakes can be made and how to avoid them.
Note: When displaying incorrect answers to the class, copy them in your own handwriting before showing the rest of the students to avoid embarrassment.
Test Prep
Task cards can be a fun way to study for tests. One strategy is to have students pair up and solve the problems together. When students do this you may want to ask each student a specific problem individually about the task card to check their understanding.
Another idea would be to use the jigsaw strategy. Put students in groups of 3 or 4 to "master" one task card. Then each person from that group regroups to a form a different group with multiple "masters". Students solve the problems they are not familiar with and the "master" can help or explain if needed.
Games
Games are a fun way to practice task cards.  There are some ideas from other teachers on my Absolute Algebra Games pinterest board.  Click on the game you want to learn more about.  You already have the task cards so you should be ready to go!
Small Groups
When used as intervention small groups can be a way for you to see exactly what mistakes are being made by specific students.
You can also use them for enrichment by finding more difficult cards and challenging a higher level group.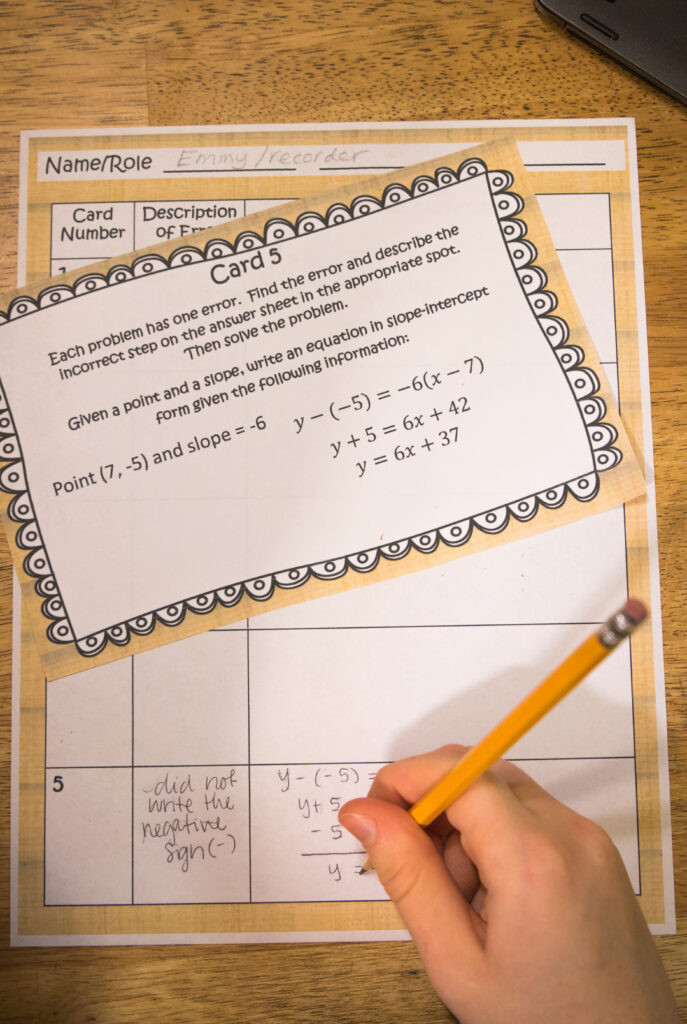 Cooperative Learning
If you look at all the answers to a multiple choice task card, you can see that some of the answers in the choices are from common mistakes. These are called distractors. Have students work in cooperative groups to solve a problem. Then assign each person an answer choice from the problem and see if they can figure out how the incorrect answer was derived.
Interactive Notebooks
Print task cards smaller and have students put them in interactive notebooks. Show work or write an explanation of the answer next to the task card for studying later.
Assessments
Task cards are great for studying for future tests.
Have students complete some task cards. Answer any questions they have about the cards. Then give them a quick learning check or quiz over similar problems at the end of the class. If you take this assessment as a grade they will be more intentional of the problems you give them during the class.
Whole Group
Put the task card on your projector and have students use white boards to show you if they understand.
Questions to Ask Yourself when Creating Task Cards?
What size should they be?
What topic(s) should they include?
Will they be multiple choice or free response?
Will the answer be on the card or somewhere else?
How will I hold my students accountable when they use the task cards?
I would love to help you get started with task cards in your classroom!
Click here to receive 20 ideas for using task cards in your classroom!
Go to my Teachers Pay Teachers Store to see my Algebra I task cards. Here are some 6th grade task cards and 7th grade task cards.
You can also follow my store to get notifications on my newest products.
Do you have any other ideas on how to use task cards your classroom? I would love to read them! Let me know in the comments below.